The Advanced Manufacturing Research Centre with Boeing has had exciting developments in a new machining technique study that could drastically reduce energy costs while improving performance for aerospace applications.
Newburgh Engineering has begun working with the AMRC with Boeing in addition to Eneplan (Energy Efficient Process Planning System) to use Eneplan's research on production of new aerospace components. One process that is being explored is the use of abrasive waterjet cutting in manufacturing processes to replace traditional cutting methods.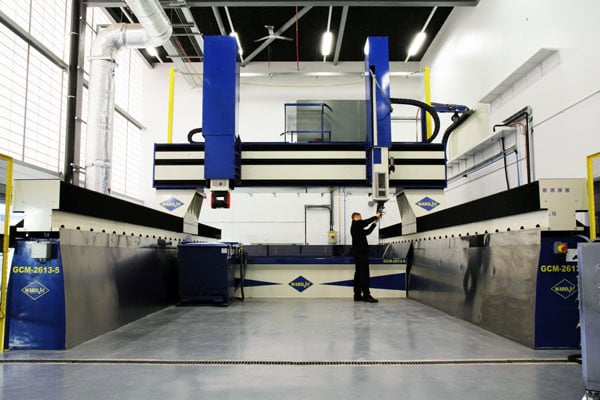 To investigate the benefits of using waterjet cutting, the AMRC with Boeing and Newburgh are using the recently installed GCM Combination 5-Axis Mill and Waterjet to produce precision work for the aerospace industry. With the GCM Waterjet's ability to cut 5-axis parts and then mill those same composite pieces on the same table without the need to refixure, it's easy to see how efficiency can be increased.
We are always excited to see how our waterjet systems are being used to improve on existing processes. With the AMRC with Boeing and their several ongoing manufacturing projects, we look forward to seeing the way we can help change the way that aerospace composites are manufactured.
To find out more about the GCM and other G-Series Waterjets, visit the
G-Series page.
To learn more about Newburgh Engineering's involvement with the AMRC with Boeing, read their feature study
here
.
Labels: 5 axis waterjet, 5-axis cnc machining, abrasive waterjet cutting, aerospace, aerospace manufacturing, amrc, boeing, cnc milling, cnc waterjet, composite milling, Eneplan, G-Series, GCM, manufacturing solutions
posted by Unknown at 12:13 PM