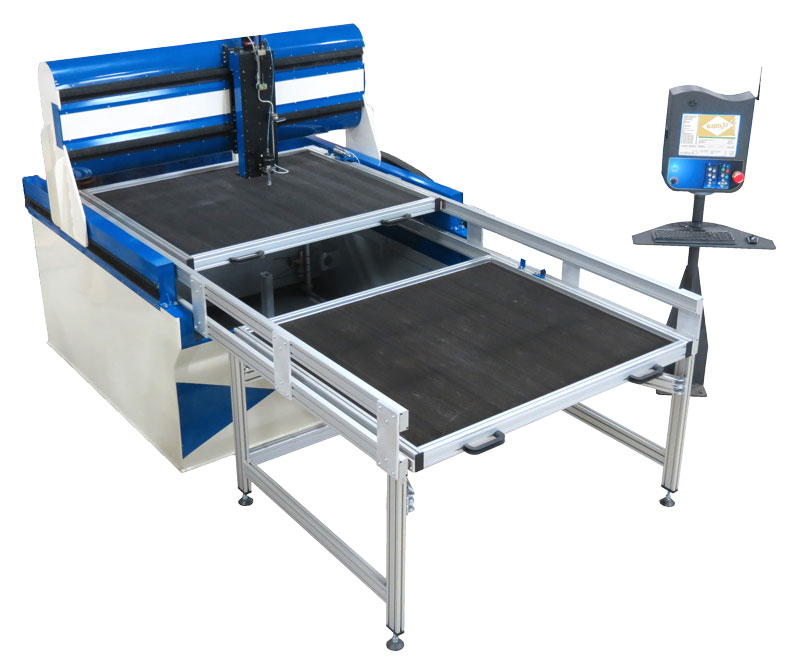 Not every custom machine needs to be designed from the ground up. With WARDJet's modular design, it's easy to take something standard and modify a few small details to make it completely custom. A perfect example is this ZXL-45 with custom shuttle tables. Our customer needed a quick way to load and unload material in order to maximize their cutting time. Also, they required a system that would minimize the spray on the material that is being cut. With just a few modifications to a standard Z-45, we were able to fulfill all of their needs.
Most times, a custom machine will also need custom electronics, sensors, and logic to operate properly. Since WARDJet designs and builds it's own circuits, software, and programs, you can be sure that your custom equipment will function seamlessly with your WARDJet waterjet. Below, Richard Ward talks about the design of the custom ZXL-45 machine and some of the features including a unique table lock system.
If you have an application that you feel just can't be handled with a standard waterjet system, give us a call. The solution might be easier than you think.
Labels: custom, custom engineering, custom systems, custom waterjet, shuttle table, shuttle tables, water jet, water jet cutting, waterjet
posted by Unknown at 10:38 AM