We're shipping another of our newest machines!
We're loading up and sending another of our Z-2543 models to another customer. The Z-2543 is an extremely versatile water cutting machine, that will open all sorts of new possibilities for our customer. If they would ever like to expand the capabilities of their waterjet, it's easy with a WARDJet. All of our machines are able to be easily upgraded as we use standard parts throughout our machine lineup.
If you'd like to increase productivity and push the boundaries of what's possible in your business, contact WARDJet today to begin designing your perfect waterjet.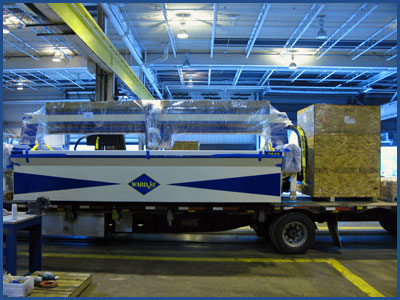 -Benjie Massara and the WARDJet Team
Labels: dynamic waterjet, photos, WARDJet, water jet, waterjet cutting, waterjet cutting machines
posted by Unknown at 10:30 AM