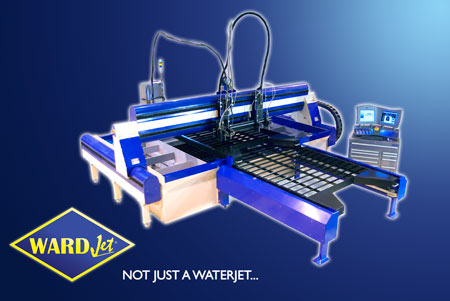 Looking for a way to increase your production?
Shuttle Tables are an easy way to double production. If you have a material that is difficult or time consuming to load on the cutting table, why not add a shuttle table and load one table while cutting on the other? This two table design is the perfect fit between cutting parts one at a time and using a continuous feed.
This particular machine is a water only cutting machine but the customer needed to be able to perform a time-consuming table load while the other table was being cut on to reduce non-cutting time. The two tables run on two independent tracks, one in the tank and another set of tracks outside of the tank which makes the whole machine easier to move in sections. Hydraulic locks clamp into place when the tables are in the correct cutting position to ensure the cuts start right where the operator wants.
Please install the latest version of Adobe Flash Player to view this content!
Give us a call if something like this seems right for your application. If not, tell us what your application is and we can design something to fit your specific needs!
Labels: custom fabrication, custom waterjet, shuttle table, shuttle tables, video, water cutting, water jet cutting
posted by Unknown at 2:03 PM